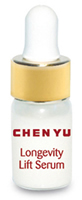 Longevity Cell Lift SERUM
All Skin Types
Intelligent drops of life that ensure firmer, smoother and better moisturised skin that helps longevity of cells and their natural capacity for regeneration. Its intensive lifting effect erases the signs of fatigue and leaves behind perfect skin ready for the application of make-up.
Contains: Caviar, Vitasource (Scutellaria baicalensis), hyaluronic acid, Hydromarine, Wheat Protein, Hydraprotectol, dermosomes..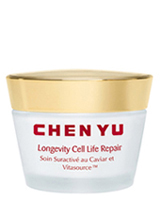 Longevity Cell Life REPAIR
Dry Skins
Specific, cutting-edge treatment that guarantees the preservation of the skin's beauty and youthful appearance. Its nourishing, detoxicant, anti-stress, anti-wrinkle, anti-oxidant, soothing, moisturising and lipid-contributing active ingredients leave the skin smooth, luminous, elastic and beautiful.
Contains: Caviar, Coenzime Q10, Vitasource (Scutellaria Baicalensis) white tea, kiwi, olive extract, white nenuphar.