Bain de Lait Moussant
Body Line
 All Skin Types
  Dermoprotective bath gel, gently creamy, foam rich, which cleanses the skin, providing it with moisturising anti-stress substances.
 Contains: Softening polymer which eliminates the static electricity responsible for nervousness. Milk proteins.

Voile Douceur
Body Line
 All Skin Types
  Moisturising body emulsion with a gentle delicate texture which protects and softens the skin, maintaining the hydric balance of the epidermis.
 Contains: Moisturising, emollient and calming agents.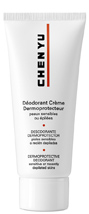 Déodorant Crème
Body Line
 All Skin Types
  Dermoprotective deodorant, gentle and creamy, indicated for sensitive and recently depilated skins.
 Contains: Anti-transpirant agents, astringents, antiseptics of the underarm flora.

Manussia Anti-Rides Mains
Body Line
 All Skin Types
  Protective formula specifically for the care of hands and nails, rich in moisturising, softening and healing elements.
 Contains: Shea butter, protective, moisturising, calming, reparative and nutritive agents.